The following is the latest in an ongoing series of art-related posts.
Antonioni, too, made great use of a Polaroid at the time, and I remember that during a reconnaissance in Uzbekistan for a film that in the end we never made, he wanted to give three elderly Muslims a photograph he had had taken of them. The eldest, after casting a brief glance at the image, gave it back to him, saying: 'Why stop time?' We were left gaping in wonder, speechless at this extraordinary refusal.
Tarkovsky often reflected on the way that time flies and this is precisely what he wanted: to stop it, even with these quick Polaroid shots.
Tonino Guerra, Instant Light Tarkovsky Polaroids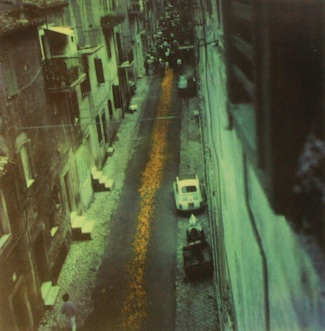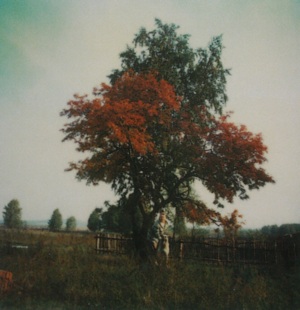 The slowing down of time is an accommodation that facilitates creation and perception. Regarding the latter, photographs allow for detailed examination, often without even losing a sense of linearity. The turmeric-colored ribbon of flowers in the photograph at left, marks a procession disappearing into the top of the image. There is a remarkable sense of desolation left in the procession's wake, partly informed by the emptied street, partly due to the washed out color of the looming walls, and amplified by the voyeuristic perch from which we view the entire scene. This photograph was taken by the Russian film director Andrey Tarkovsky (1932 - 1986) and is one of many fascinating images presented in the book, Instant Light Tarkovsky Polaroids.
It isn't surprising to hear the names of Tarkovsky and Antonioni simultaneously invoked by Tonino Guerra in the quote above. Both directors were not afraid to give the viewer ample time to survey a shot, often without the distraction of musical sound or dialogue. The focus and intensity present in their films translates easily to Tarkovsky's small yet engrossing images.
While Tarkovsky's polaroids are fascinating on their own, it is easy to imagine the collection as a kind of cinematic sketchbook. Latent storylines abound and many shots offer a powerful sense of staging.
Regardless of interpretation, Tarkovsky's polaroids extend well beyond the simple bounds of many snapshots. As Guerra states, "These images leave us with a mysterious and poetic sensation, the melancholy of seeing things for the last time...They are something to be shared, not only a method of making his own wish to stop time come true."
When I happened upon this book last week, I also felt like sharing.
Click here to view additional images along with brief captions by Tarkovsky's son.